Save time, Minimize Cost and Deliver Exponential ROI
V4I is 
Modernizing How Government Officials Communicate with the Public
We are the leader in digital communications and advanced analytics for the public sector. We modernize how government officials communicate with people, replacing limiting, costly and unmeasurable print and broadcast media. Our patented technology reaches real people in real households through their mobile devices with unparalleled precision at a fraction of the cost of traditional media--all while measuring public reaction, campaign performance and ROI in real time. As a result, government officials shape the critical dialogue required to better reach, serve and empower their communities.
Delivering Exponential Efficiencies and Measurable ROI to the Public Sector
Our technology saves time, minimizes cost and delivers exponential ROI, while simultaneously achieving diversity, inclusion, equity, and accessibility. We leverage the same proven methods the private sector has used for decades, without violating privacy or civil liberties. The success metric is measured in three distinct ways:
1. Dollars raised
2. Behaviors changed, and/or
3. Increased awareness achieved
Proven ROI: Dollars Raised
Voice 4 Impact recently partnered with the city of Wilmington, Delaware in their Parking & Utility Assistance Campaign. With a set-up investment of $20,000, the City realized ROI of 59 times, capturing more than $1.12M of previously uncollected revenue within 90 days.­ The City converted every 1 in 4 residents, reaching over 90% of real people in their communities.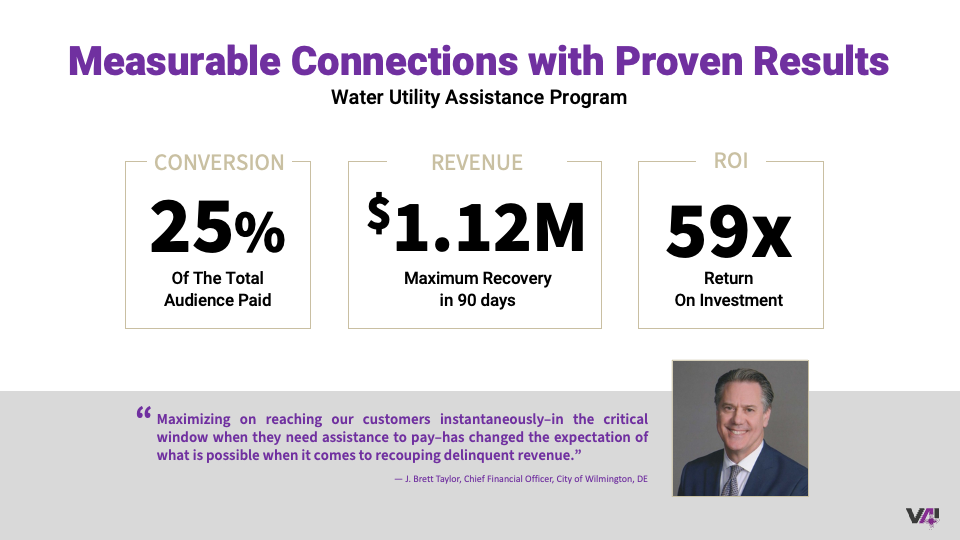 Proven ROI: Behaviors Changed & Increased Awareness
Our technology:
Uses proprietary mobile location data;

Delivers valuable insights through customizable dashboards; 

Serves micro-targeted digital messages to constituents; and 

Offers the unique ability to measure campaign performance and ROI in real time, 24-7, 365 days a year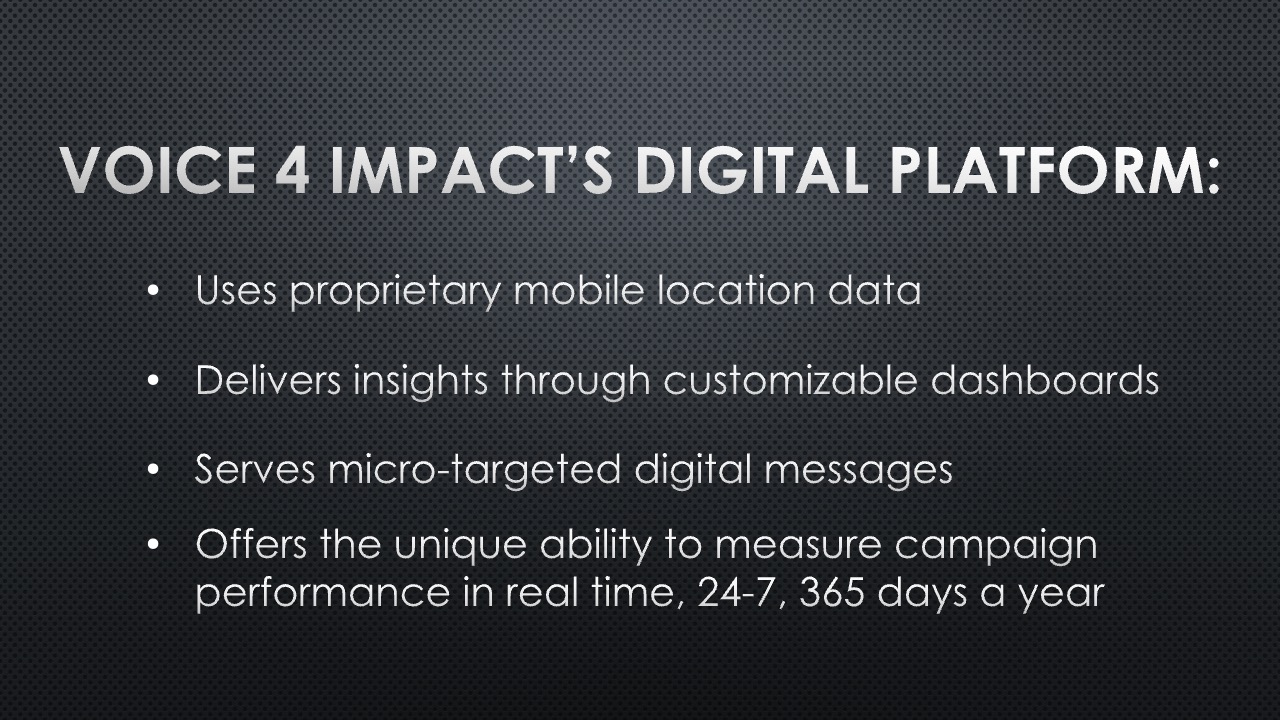 To best demonstrate how our digital solution enhances operations for a state department of transportation, we created a TRAVELER ORIGIN DASHBOARD powered by our patented geo-framing technology. Our user-centric solution measures commuter behaviors by using our proprietary mobile location data.  
Allows for a DOT to draw custom polygons to harvest the mobile advertising IDs from devices located in any area or location of interest and within any time frame from the last week to the last year.  

It then Maps the mobile advertising IDs back to a physical address determining points of origin and destination to uniquely measure commuter behaviors. This service is specific to Voice 4 Impact via our proprietary process.

Delivers up-to-date digital messages encouraging commuters to take safer routes, visit a website, or download an app for up-to-the-minute alerts


 
ROI is Achieved in Real Time
DOTs can now reach real people and serve the right messages directly to their respective households enabling measurement of any changes in their travel behaviors. ROI is achieved in real time by anonymously monitoring the digital communications and directly measuring changes in constituent behavior through their increased awareness. 
Digital Communications Platform vs. Social Media in Achieving Reach
When it comes to communicating with constituents, reach is everything. Let's compare the reach of our digital communications platform to a leading social media channel: 
If a public sector official shares a Facebook post in a city of 1.5M residents 

And we assume a generous 36K like the page, industry standards indicate he or she will reach an average of 10% or 3,600 people with that Facebook post

This means that only a tiny fraction of the total population receives the message 

In comparison, the digital communications platform reaches 90+% of targeted constituents. With a confidence level over 90%, we focus on delivering return on campaign spend while maximizing connectivity with intended audiences
Procurement Options
Find our solution on Amazon Web Services easily accessible on the marketplace and available through Carahsoft's NASPO ValuePoint Cloud Solutions Contract #AR2472.
Privacy-First Priority
Confidentiality is never sacrificed. Our technology does not require names or any other personally identifiable information (PII).
Data ingestion is limited to the minimum data required for a successful campaign.
Data is logically siloed from other client's data.
Data suppliers are vetted and only provide consumer opt-in information with consent.
All data is encrypted in transmission via TLS and stored securely in SSAE-16 SOC II compliant data centers.
We provide easy access for consumers to opt-out.
Compliance & Enforcement of Privacy
DAA: Digital Advertising Alliance
CCPA: California Consumer Protection Act
CFPA: Consumer Financial Protection Act
GDPR: General Data Protection Regulation (EU)
HIPAA: Patient's Protected Health Information